TOP
2016 Harrier Ridge Merlot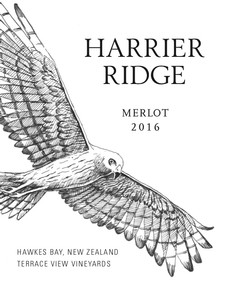 Wine Specs
Aging
French Oak barrels (70% new) for 18 months
Bottling Date
December 2017
Use your Club Code for discounts and free shipping!
Winemakers Notes
Harrier Ridge wines are only produced in seasons when the winemakers believe that the grapes have reach there optimum maturity and flavour intensity. The wines have their already complex characteristics then enhanced as they are carefully guided through the winery.
Harrier Ridge Merlot from the 2016 growing season yielded intense fruit flavours and aromatic characters. Selective harvesting, small open top fermentation with careful winemaking and oak management have combined to produce a superb wine.
Colour
Dark red with a plum hues
Bouquet
Ripe plum and crushed blackberry fruit characters blend with spicy vanilla oak aromas for an inviting bouquet.
Palate
A layered and complex palate of sweet blackberry fruit, plum and chocolate. Rich fruit characteristics are integrated with firm tannins to result in a superb wine with a lengthy finish
Cellaring Potential
Enjoy now or over the next 10 years.
Composition
90% Merlot 10% Cab Franc
Oenological Treatment
The grapes were hand harvested and crushed into small open top fermenters. A cultured yeast was used for the fermentation, which were hand plunged 3 times daily with an average skin contact time of 18 days. The wine was then aged in French Oak barrels (70% new) for 18 months before final blending and light fining prior to bottling.
Wine Specs
Aging
French Oak barrels (70% new) for 18 months
Bottling Date
December 2017
Product Reviews
п»їcialis
(Jul 6, 2020 at 6:29 AM)
Viagra Super Active loaladoLom https://acialisd.com/# - Cialis PedgePah Online Prednisone ideaboge Cialis Actirl Online Antibiotics Fast